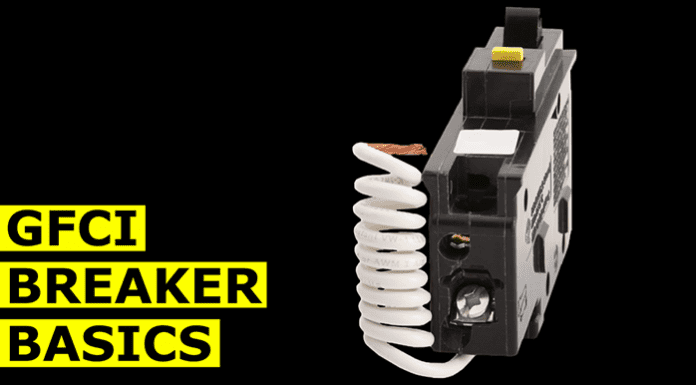 In this article, we're going to go over the basics of GFCI breakers and how to use them. By the end of this article you'll be able to understand how to use a GFCI breaker and when to use it.
Scroll to the bottom to watch the YouTube tutorial.
Remember electricity is dangerous and can be fatal you should be qualified and competent to carry out any electrical work.
GFCI circuit breaker which stands for Ground Fault Circuit Interrupter. This will look something like this and depending on the model you buy you will usually have the pigtail neutral wire connected to it.
GFCI's are required on certain circuits where outlets are used for kitchens, bathrooms, hot tubs, etc. You should check with the National Electric Code for exact details.
The GFCI breaker has both the hot and the neutral flowing through it. This way you can measure the current flowing through both wires and ensure they are equal. If we took a standard outlet, we would take our hot wire from the breaker and connect this to the outlet terminal. Then we take the neutral wire and run this back to the circuit breaker to a specific neutral terminal. We then connect the pigtail wire into the neutral busbar. This will provide the return path. And of course we run the ground wire from the outlet back to the neutral ground bar.
If we look at this example, the current is flowing normally until the guy sticks a screw driver into the socket. The electricity then flows through him instead of the neutral wire. The GFCI is measuring the current in the two wires and notices that these are not equal. It then automatically trips the breaker cut the power and save the mans life.
---