If you're looking for free refrigeration design software, that's quick and easy to use, then look no further than the Coolselector 2 application from Danfoss. Whether you're a HVAC professional or a student, this software will let you test your design ideas and system modifications so you can make informed decisions before committing to capital investment. You can watch the video on this article by scrolling to the bottom!
We recently tested the software and in this article we will be discussing some of the features available. The software comes from Danfoss who are already well known in the industry as the go-to source for information and resources that can help you through the cooling industry's transition to natural and climate-friendly refrigerants. They have a deep understanding of all the new regulations and their effects, and they're ready to share their knowledge and solutions with you. They've also made other helpful tools like their refrigerant retrofit guide, Low-GWP Tool, and of course the Coolselector 2 app. All of these, and many more, are available for free on their website. You can access them now by visiting Refrigerants.Danfoss.com.
Installation
We found the software to be very quick to download and install. Despite the software being feature packed, the setup file was only 25.9 MB in size which takes mere seconds over a typical internet connection.
Setup
Setup is pretty straight forward and all of the settings can be changed later on in the application for things such as location, units of measurement and language.
Features
The first feature you'll notice is the Valves and Line Components tab.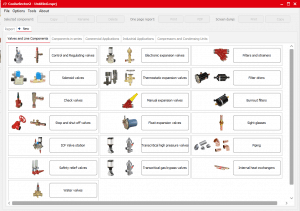 This allows you to select individual components for a refrigeration system based on specific design criteria such as refrigerants, cooling capacity, evaporator and condenser temperatures as well as superheat, subcooling, pipe connections and sizes. The app will display the refrigerant flow rates, pressure drops as well as the performance curves and details.
The next feature is the Components in Series tab.
This allows you to connect and calculate valves and line components for a range of refrigeration systems and see how they perform. Everything in included in this section and these can be dragged and dropped into your system design to find the correct components. The software automatically suggests the best components for your application and it will provide warning and explanation if something is not quite right. You name it, it's been included from control valves, check valves, distributors, expansion valves, filter driers, sight glasses and even pipework.
The next feature is the Commercial Applications tab
This allows you to design a Cold Room with every consideration taken into account from the dimensions of the room, the insulation used, the temperatures, the type of storage goods kept, the lights and number of staff etc. Once you have filled in the desired valves it will even produce a report detailing exactly which components you will need from the compressor and condenser to the expansion valve and pipework.
The next feature is the Industrial Applications tab
This allows you to design an evaporator valve selection box to suit your refrigerant and cooling capacity as well as evaporator and condenser temperatures and superheat/subcooling. The feature shows the configuration and parts needed for your wet line, defrost line, liquid line and hot gas defrost line. Once the parameters are set, it will even generate a report detailing exactly which components you'll need.
The last feature is the Compressor and Condensing unit tab.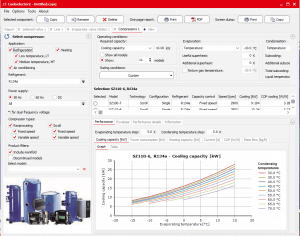 This feature allows you to chose a compressor and condenser to suit the exact requirements of your systems design. It will make recommendations and will display warnings if an item may cause issues. The components are filtered by selecting the refrigerant, Hz, number of phases available, the compressor type, as well as cooling capacity. The tab will also show you full operating parameters such as power consumption, heating capacity, current (Amps), COP and refrigerant flow rates. Again, all of this can be saved into a report and shared.