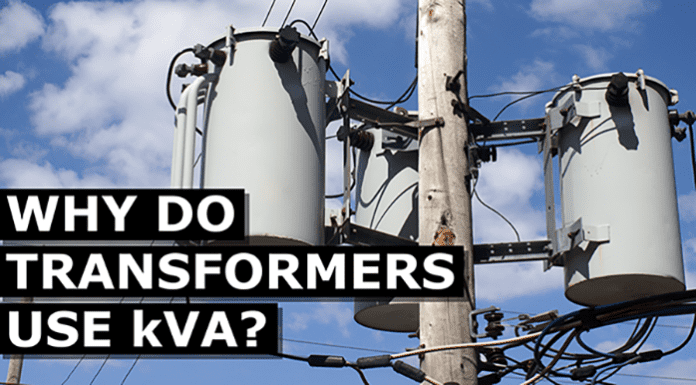 Why do transformers use kVA and not kW, find out why here. Why transformer rating in kVA why transformer not rated in kW.
Scroll to the bottom to watch the YouTube tutorial.
So why do transformers use the units of kVA instead kilowatts? Well the transformer is just transferring power between the coils so we use the volt amp unit.
The kilowatts depend on what you connect to the transformer. The manufacturer doesn't know what you will connect to the transformer. So they state the total rated apparent power in volt amps.
And that's because in AC circuits, the load depends on the true power in kilowatts, and the power factor which is basically efficiency. And this varies depending on the device.
Some energy is consumed but it produces no work, it is just wasted as heat and we call this reactive power – with the units Var.
Power factor is just the ratio of true power and apparent power. If you think of a glass of beer, the liquid beer is the useful stuff. This is your true power in kilowatts. But there is always some foam which is useless. We don't want that. This is the reactive power, or the Volt Amp Reactive.
You pay for the total volume of the glass, regardless of how much foam and beer is inside. This is your apparent power, in volt amps.
Now if you have a good bartender, you will get a little foam and lots of beer for your money. But if you have a bad bartender then you are going to get lots of foam and not so much beer for your money. The transformer manufacturer is basically saying this transformer can handle a glass this big, but its up to you how much beer and foam you put into that. The less foam you try to pass through, the more beer you can get out. So the more efficient the device is you connect, the more things you can power.
---