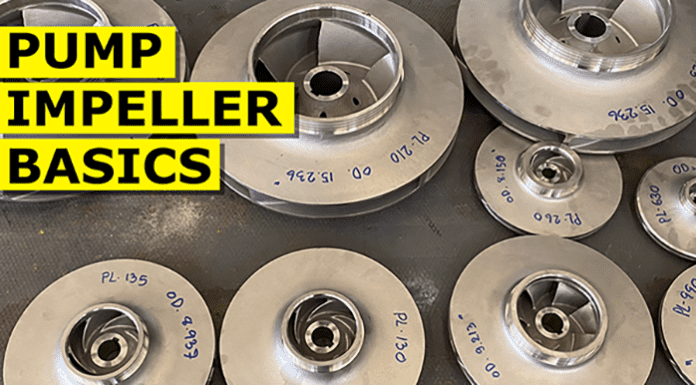 In this article, we're going to discuss the basics of pump impellers. You'll learn what they are, what they do, and how they work.
Scroll to the bottom to watch the YouTube tutorials.
There are many types of impeller, but most will have these backward curved vanes which will either be open or semi-open or closed with some shrouds. These backward curved vanes do not push the water. The curves rotate with the outer edge moving in the direction of the expanding volute.
These vanes will provide the fluid with a smooth path for the water to flow. We'll see that a little later in this article.
The impeller is submerged in water, when the impeller rotates, the water within the impeller also rotates. As the water rotates, the liquid is radially pushed out in all directions to the edge of the impeller and into the volute. As the water moves outwards off the impeller, it creates a region of low pressure which pulls more water in through the suction inlet. The water enters into the eye of the impeller and is trapped there between the blades. As the impeller rotates it imparts kinetic energy or velocity onto the water. By the time the water reaches the edge of the impeller it has reached a very high velocity. This high-speed water flows off the impeller and into the volute where it hits the wall of the pump casing. This impact converts the velocity into potential energy or pressure. More water follows behind this and so our flow develops. The volute channel has an expanding diameter as it spirals around the circumference of the pump casing. As it expands, the velocity of the water will decrease, resulting in pressure increasing. This expanding channel therefore allows more water to keep joining and converting into pressure, so the discharge outlet is therefore a higher pressure than the suction inlet. The high pressure of the discharge allows us to force the fluid through pipes and into a storage tank or around a pipe system.
The thickness of the impeller and the rotational speed affects the volume rate from the pump but the diameter of the impeller and the rotational speed would increase the pressure it can produce.
---